BKMT READING GUIDES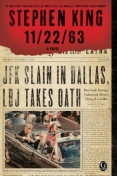 11/22/63: A Novel

by Stephen King
Published: 2012-07-24
Paperback : 880 pages
217 members reading this now
152 clubs reading this now
112 members have read this book
Recommended to book clubs by 52 of 53 members
Now in trade paperback, acclaimed author and Master of Horror Stephen King's #1 bestselling time travel novel, winner of the 2011 Los Angeles Times Book Prize for Best Mystery/Thriller and praised by USA TODAY as "extraordinary."

WINNER OF THE 2012 LOS ANGELES TIMES BOOK PRIZE

In ...
Jump to
Introduction
Now in trade paperback, acclaimed author and Master of Horror Stephen King's #1 bestselling time travel novel, winner of the 2011 Los Angeles Times Book Prize for Best Mystery/Thriller and praised by USA TODAY as "extraordinary."

WINNER OF THE 2012 LOS ANGELES TIMES BOOK PRIZE

In Stephen King's "most ambitious and accomplished" (NPR) and "extraordinary" (USA TODAY) #1 New York Times bestselling novel, time travel has never been so believable. Or so terrifying.

Dallas, 11/22/63: Three shots ring out.

President John F. Kennedy is dead.

Life can turn on a dime—or stumble into the extraordinary, as it does for Jake Epping, a high school English teacher in a Maine town. While grading essays by his GED students, Jake reads a gruesome, enthralling piece penned by janitor Harry Dunning: fifty years ago, Harry somehow survived his father's sledgehammer slaughter of his entire family. Jake is blown away...but an even more bizarre secret comes to light when Jake's friend Al, owner of the local diner, enlists Jake to take over the mission that has become his obsession—to prevent the Kennedy assassination. How? By stepping through a portal in the diner's storeroom, and into the era of Ike and Elvis, of big American cars, sock hops, and cigarette smoke... Finding himself in warmhearted Jodie, Texas, Jake begins a new life. But all turns in the road lead to a troubled loner named Lee Harvey Oswald. The course of history is about to be rewritten...and become heart-stoppingly suspenseful.
Excerpt
8
On Monday, March 25, Lee came walking up Neely Street carrying a long package wrapped in brown paper. Peering through a tiny crack in the curtains, I could see the words REGISTERED and INSURED stamped on it in big red letters. For the first time I thought he seemed furtive and nervous, actually looking around at his exterior surroundings instead of at the spooky furniture deep in his head. I knew what was in the package: a 6.5mm Carcano rifle—also known as a Mannlicher-Carcano—complete with scope, purchased from Klein's Sporting Goods in Chicago. Five minutes after he climbed the outside stairs to the second floor, the gun Lee would use to change history was in a closet above my head. Marina took the famous pictures of him holding it just outside my living room window six days later, but I didn't see it. That was a Sunday, and I was in Jodie. As the tenth grew closer, those weekends with Sadie had become the most important, the dearest, things in my life. ...
view entire excerpt...
Discussion Questions
1. How would you describe Jake Epping—what kind of man is he? How does his ex-wife see him? How do others see him. How do you see him?
2. Why does Jake agree to go back in time—what are his reasons? At this stage in your own life, would you be willing to travel back to the past? What conditions would you require to do so?
2. Why does King inject the Derry, Maine, subplot into the main plot? Is the Dunning episode necessary to the story—or does it drag down the novel's pace?
3. Describe the world of 1958 in which 2011 Jake finds himself. What is appealing about the era...and what is unappealing?
4. Once in Texas, what does Jake, now George Amberson, come to learn about Lee Harvey Oswald? What kind of character is Oswald? When Oswald arrives on the scene, why doesn't Jake/George just take him out? Why does he delay?
5. Follow-up to Question 4: What makes Jake/George (and the author) conclude that Oswald acted alone? Do you think he did? Have you done any previous reading/research that suggests Oswald was not a lone gunman?
6. Jake/George has come to believe that life is not random:
Coincidences happen, but I've come to believe they are actually quite rare. Something is at work, O.K.? Somewhere in the universe (or behind it), a great machine is ticking and turning its fabulous gears.
What does Jake/George mean? Do you believe in a "great machine," an over-arching fate, or God who oversees and intervenes in our lives. Do "things happen for a reason"? What are your thoughts?
7. What is the nature of time as presented in 11/22/63? Consider the following:
• Time doesn't want to be changed: time is "obdurate." Why?
• Harmonies crop up, similarities in names and events. Why?
• The butterfly effect—what is it?
• The Yellow Card Man—is he a sentinel?
• Time is like a string; changing events tangles the strings.
8. Follow-up to Question 7: What does the novel, ultimately, seem to suggest about the human desire to alter the past?
9. Follow-up to Questions 7 & 8: How does the novel present the notion of history? Is history shaped by individuals whose actions, discoveries, and intentions alter the course of events? Or is history created by the interconnectedness of a multitude of events, generated by forces bigger than any single individual?
10. King has a talent for taking supernatural events and locating them in everyday, mundane settings. How does he do that in 11/22/63? Does he pull it off...or does he falter?
11. 14. Why does Sadie sense that there's something odd about Jake/George? What are some of the ways that George's knowledge of the future betray him? Why does he withhold the truth from Sadie for so long? How would you react if someone told you he/she came from the future?
12. How would you classify this book? Historical fiction? Science fiction? Alternate history? Romance? Thriller? Realism? Is it suspenseful—did you find yourself rushing to turn the page? Were you expecting George to succeed—or fail—in his mission?
13. SPOILER ALERT: Talk about Jake/George's decision to return to 2011. Why does he make the choice he does? Do you wish he had chosen differently?
14. SPOILER ALERT: Talk about the dystopian world Jake returns to in 2011. What were the series of events that led up to the conditions he finds?
15. If you've read other Stephen King books, or seen the movies, how does this book compare with his others? Has he jumped his usual genre...or expanded it? Does that fact that King's normal genre is fantasy-horror make him especially equipped as an author to write a book like 11/22/63?
Questions issued by LitLovers
Suggested by Members
Discuss the theme of "Life turns on a dime." How does this theme play throughout the novel? How do you feel about this line? Have you experienced this in your own life?
In Chapter fifteen, Jake/George tells us why Jodie, TX is home: "Home is where you dance with others, and dancing is life." What did you think of this? How does Jake come to think of the 1960's and Jodie as home? What does that mean for him?
At the end of his story Jake says: "Philip Nolan was the Man Without a Country; I am the Man Without a Time Frame." Discuss Jake's new relationship with the past and present.
by RockinRenee
(see profile)
02/10/14
What do you think would have happened if Kennedy had not been assasinated?
What do you think of the butterfly effect?
by blblanton
(see profile)
04/08/13
If you could go back in time to one particular day in your life, what day would that be?
by JeanHerbranson
(see profile)
08/30/12
If you could bring one thing back from 1963, what would it be?
by mcberstene
(see profile)
05/22/12
If possible to go back for a day in time, what day would you choose? and why?
by alanna
(see profile)
02/24/12
Similarities shared with The Dead Zone
by ToddRussell
(see profile)
12/06/11
Book Club Recommendations
Recommended to book clubs by 52 of 53 members.
Have a Sixties Party!
by RockinRenee (see
profile
) 02/10/14
Have guests wear sixties style clothing (watch Mad Men for inspiration.)-- Serve martinis for cocktails, Pigs in a Blanket and Chex Mix for appetizers, Jello Mold and/or Root Beer floats for dessert,-- Play a 11/22/63 playlist with music from the late fifties and early sixties: Songs Stephen King listened to were \\\"Swing in the Mood\\\" by Jive Bunny and the Master Mixers, \\\"Honky Tonk Women\\\" by Rolling Stones, \\\"C\\\'mon Everybody\\\" by Eddie Cochran, \\\"The Twist\\\" by Chubby Checker, \\\"At the Hop\\\" by Danny & the Juniors, \\\"Rock and Roll Is Here to Stay\\\" by Danny & the Juniors, \\\"Do You Wanna Dance\\\" by Bobby Freeman, \\\"In the Mood\\\" by Glenn Miller, \\\"Whole Lotta Shakin\\\' Goin\\\' On\\\" by Jerry Lee Lewis,-- Other Suggestions \\\"She Loves You\\\" by the Beatles, \\\"Love Is Strange\\\" by Mickey and Sylvia, \\\"Save the Last Dance for Me\\\" by The Drifters, \\\"That\\\'ll Be the Day\\\" by Buddy Holly and the Crickets, \\\"Time Has Come Today\\\" by The Chambers Brothers, and \\\"Time Is On My Side\\\" by The Rolling Stones
BECOME A MEMBER
it's free
Join the leading website for book clubs with over 35,000 clubs and 20,000 reading guides.
SEARCH OUR READING GUIDES
Search
JOIN OUR MAILING LIST
Get free weekly updates on top club picks, book giveaways, author events and more
Please wait...