BKMT READING GUIDES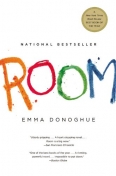 Room: A Novel

by Emma Donoghue
Published: 2011-05-18
Paperback : 0 pages
496 members reading this now
250 clubs reading this now
0 members told 0 friends about this book.
435 members have read this book
Recommended to book clubs by 261 of 294 members
NOW A MAJOR MOTION PICTURETo five-year-old-Jack, Room is the world. . . . It's where he was born, it's where he and his Ma eat and sleep and play and learn. At night, his Ma shuts him safely in the wardrobe, where he is meant to be asleep when Old Nick visits. Room is home ...
Jump to
Introduction
NOW A MAJOR MOTION PICTURE

To five-year-old-Jack, Room is the world. . . . It's where he was born, it's where he and his Ma eat and sleep and play and learn. At night, his Ma shuts him safely in the wardrobe, where he is meant to be asleep when Old Nick visits.

Room is home to Jack, but to Ma it's the prison where she has been held for seven years. Through her fierce love for her son, she has created a life for him in this eleven-by-eleven-foot space. But with Jack's curiosity building alongside her own desperation, she knows that Room cannot contain either much longer.

Room is a tale at once shocking, riveting, exhilarating--a story of unconquerable love in harrowing circumstances, and of the diamond-hard bond between a mother and her child.
Editorial Review
Amazon Best of the Month, September 2010
: In many ways, Jack is a typical 5-year-old. He likes to read books, watch TV, and play games with his Ma. But Jack is different in a big way--he has lived his entire life in a single room, sharing the tiny space with only his mother and an unnerving nighttime visitor known as Old Nick. For Jack, Room is the only world he knows, but for Ma, it is a prison in which she has tried to craft a normal life for her son. When their insular world suddenly expands beyond the confines of their four walls, the consequences are piercing and extraordinary. Despite its profoundly disturbing premise, Emma Donoghue's
Room
is rife with moments of hope and beauty, and the dogged determination to live, even in the most desolate circumstances. A stunning and original novel of survival in captivity, readers who enter
Room
will leave staggered, as though, like Jack, they are seeing the world for the very first time.
--Lynette Mong
---
Excerpt
For a song I want a funny, she starts, " 'The worms crawl in, the worms crawl out - ' "
" 'They eat your guts like sauerkraut - ,'" I sing.
" 'They eat your eyes, they eat your nose - ' "
" 'They eat the dirt between your toes - ' "
I have lots on Bed but my mouth is sleepy. Ma carries me into Wardrobe, she tucks Blanket around my neck, I pull her looser again. My fingers go choo-choo along her red line.
Beep beep, that's Door. Ma jumps up and makes a sound, I think she hit her head. She shuts Wardrobe tight.
The air that comes in is freezing, I think it's a bit of Outer Space, it smells yum. Door makes his thump that means Old Nick's in now. I'm not sleepy anymore. I get up on my knees and look through the slats, but all I can see is Dresser and Bath and a curve of Table. ...
view entire excerpt...
Discussion Questions
From Room's Official Web Site:
1.Why do you think the entire book is told in Jack's voice? Do you think it is effective?
2.What are some of the ways in which Jack's development has been stunted by growing up in Room? How has he benefited?
3.If you were Ma, what would you miss most about the outside world?
4.What would you do differently if you were Jack's parent? Would you tell Jack about the outside world from the start?
5.If Ma had never given birth to Jack, what would her situation in Room be like?
6.What would you ask for, for Sundaytreat, if you were Jack? If you were Ma?
7.Describe the dynamic between Old Nick and Ma. Why does the author choose not to tell us Old Nick's story?
8.What does joining the outside world do to Jack? To Ma?
9.What role do you think the media play in the novel?
10.In a similar situation, how would you teach a child the difference between the real world and what they watch on television?
11.Why are we so fascinated by stories of long-term confinement?
12.What were you most affected by in the novel?
Suggested by Members
What kind of follow up intervention do you think Ma and Jack will need for a very long time? (Psychiatric)
by overstock
(see profile)
12/31/14
Point of view
Was Ma right in how she raised Jack
Could you have coped? How?
by ccoyne
(see profile)
09/14/13
Grandma and Steppa's reaction to Ma and Jack. How did you feel about the time Jack spent at their house.
by gbierman
(see profile)
06/12/12
We discussed how the book might change if one of the other characters was the narrator instead of five year old Jack. Also, we all wanted to smack the kidnapped girl's mother; she is a very unsympathetic character.
by skoomarm
(see profile)
01/18/12
Would you have told your child about the outside world if you were in the same situation?
What are other ways that you would have tried to escape from the Room?
What are some things that would be helpful for both mom and son to adjust to the outside world?
by laurieleigh04
(see profile)
07/08/11
The plausibility of a 7 year captivity vs the level of trauma to the mother (initially).
by janannette
(see profile)
07/01/11
Be prepared for a discussion on breastfeeding
Donoghue's website is full of wonderful information as well as an illustration of the room
Youtube provides several good interviews with Emma Donoghue
by ncvlib
(see profile)
06/15/11
If you had foreknowledge of this story, how did that affect your reading enjoyment?
Was the attempted suicide, after so short a period, characteristic?
Why might breastfeeding be okay in this situation?
by Pam Jones
(see profile)
05/12/11
I was surprised to learn how spatial perception was skewed because they were living out of one room. This led to a discussion about other elements we need to survive, like sunshine, socialization with peers.
We talked about child development and what an amazing job "Ma" did considering.
by poohnuts26
(see profile)
05/08/11
Do you think the fact that Jack's mother was adopted play a role in the novel?
by sbOtis
(see profile)
03/28/11
Book Club Recommendations
Recommended to book clubs by 261 of 294 members.
Good read written from child's point of view and that was brilliant
by overstock (see
profile
) 12/31/14
BECOME A MEMBER
it's free
Join the leading website for book clubs with over 35,000 clubs and 20,000 reading guides.
SEARCH OUR READING GUIDES
Search
JOIN OUR MAILING LIST
Get free weekly updates on top club picks, book giveaways, author events and more
Please wait...