BKMT READING GUIDES
No.
78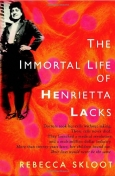 The Immortal Life of Henrietta Lacks

by Rebecca Skloot
Published: 2010-02-02
Hardcover : 384 pages
504 members reading this now
636 clubs reading this now
393 members have read this book
Recommended to book clubs by 230 of 240 members
Her name was Henrietta Lacks, but scientists know her as HeLa. She was a poor Southern tobacco farmer who worked the same land as her slave ancestors, yet her cells—taken without her knowledge—became one of the most important tools in medicine. The first "immortal" human cells ...
Jump to
Introduction
Her name was Henrietta Lacks, but scientists know her as HeLa. She was a poor Southern tobacco farmer who worked the same land as her slave ancestors, yet her cells—taken without her knowledge—became one of the most important tools in medicine. The first "immortal" human cells grown in culture, they are still alive today, though she has been dead for more than sixty years. If you could pile all HeLa cells ever grown onto a scale, they'd weigh more than 50 million metric tons—as much as a hundred Empire State Buildings. HeLa cells were vital for developing the polio vaccine; uncovered secrets of cancer, viruses, and the atom bomb's effects; helped lead to important advances like in vitro fertilization, cloning, and gene mapping; and have been bought and sold by the billions.

Yet Henrietta Lacks remains virtually unknown, buried in an unmarked grave.

Now Rebecca Skloot takes us on an extraordinary journey, from the "colored" ward of Johns Hopkins Hospital in the 1950s to stark white laboratories with freezers full of HeLa cells; from Henrietta's small, dying hometown of Clover, Virginia—a land of wooden slave quarters, faith healings, and voodoo—to East Baltimore today, where her children and grandchildren live and struggle with the legacy of her cells.

Henrietta's family did not learn of her "immortality" until more than twenty years after her death, when scientists investigating HeLa began using her husband and children in research without informed consent. And though the cells had launched a multimillion-dollar industry that sells human biological materials, her family never saw any of the profits. As Rebecca Skloot so brilliantly shows, the story of the Lacks family—past and present—is inextricably connected to the dark history of experimentation on African Americans, the birth of bioethics, and the legal battles over whether we control the stuff we are made of.

Over the decade it took to uncover this story, Rebecca became enmeshed in the lives of the Lacks family—especially Henrietta's daughter Deborah, who was devastated to learn about her mother's cells. She was consumed with questions: Had scientists cloned her mother? Did it hurt her when researchers infected her cells with viruses and shot them into space? What happened to her sister, Elsie, who died in a mental institution at the age of fifteen? And if her mother was so important to medicine, why couldn't her children afford health insurance? 
          
Intimate in feeling, astonishing in scope, and impossible to put down, The Immortal Life of Henrietta Lacks captures the beauty and drama of scientific discovery, as well as its human consequences.
Editorial Review
Amazon Best Books of the Month, February 2010
: From a single, abbreviated life grew a seemingly immortal line of cells that made some of the most crucial innovations in modern science possible. And from that same life, and those cells, Rebecca Skloot has fashioned in
The Immortal Life of Henrietta Lacks
a fascinating and moving story of medicine and family, of how life is sustained in laboratories and in memory. Henrietta Lacks was a mother of five in Baltimore, a poor African American migrant from the tobacco farms of Virginia, who died from a cruelly aggressive cancer at the age of 30 in 1951. A sample of her cancerous tissue, taken without her knowledge or consent, as was the custom then, turned out to provide one of the holy grails of mid-century biology: human cells that could survive--even thrive--in the lab. Known as HeLa cells, their stunning potency gave scientists a building block for countless breakthroughs, beginning with the cure for polio. Meanwhile, Henrietta's family continued to live in poverty and frequently poor health, and their discovery decades later of her unknowing contribution--and her cells' strange survival--left them full of pride, anger, and suspicion. For a decade, Skloot doggedly but compassionately gathered the threads of these stories, slowly gaining the trust of the family while helping them learn the truth about Henrietta, and with their aid she tells a rich and haunting story that asks the questions, Who owns our bodies? And who carries our memories? --
Tom Nissley


---
Amazon Exclusive: Jad Abumrad Reviews The Immortal Life of Henrietta Lacks
Jad Abumrad is host and creator of the public radio hit Radiolab, now in its seventh season and reaching over a million people monthly. Radiolab combines cutting-edge production with a philosophical approach to big ideas in science and beyond, and an inventive method of storytelling. Abumrad has won numerous awards, including a National Headliner Award in Radio and an American Association for the Advancement of Science (AAAS) Science Journalism Award. Read his exclusive Amazon guest review of The Immortal Life of Henrietta Lacks:
Honestly, I can't imagine a better tale.
A detective story that's at once mythically large and painfully intimate.
Just the simple facts are hard to believe: that in 1951, a poor black woman named Henrietta Lacks dies of cervical cancer, but pieces of the tumor that killed her--taken without her knowledge or consent--live on, first in one lab, then in hundreds, then thousands, then in giant factories churning out polio vaccines, then aboard rocket ships launched into space. The cells from this one tumor would spawn a multi-billion dollar industry and become a foundation of modern science--leading to breakthroughs in gene mapping, cloning and fertility and helping to discover how viruses work and how cancer develops (among a million other things). All of which is to say: the science end of this story is enough to blow one's mind right out of one's face.
But what's truly remarkable about Rebecca Skloot's book is that we also get the rest of the story, the part that could have easily remained hidden had she not spent ten years unearthing it: Who was Henrietta Lacks? How did she live? How she did die? Did her family know that she'd become, in some sense, immortal, and how did that affect them? These are crucial questions, because science should never forget the people who gave it life. And so, what unfolds is not only a reporting tour de force but also a very entertaining account of Henrietta, her ancestors, her cells and the scientists who grew them.
The book ultimately channels its journey of discovery though Henrietta's youngest daughter, Deborah, who never knew her mother, and who dreamt of one day being a scientist.
As Deborah Lacks and Skloot search for answers, we're bounced effortlessly from the tiny tobacco-farming Virginia hamlet of Henrietta's childhood to modern-day Baltimore, where Henrietta's family remains. Along the way, a series of unforgettable juxtapositions: cell culturing bumps into faith healings, cutting edge medicine collides with the dark truth that Henrietta's family can't afford the health insurance to care for diseases their mother's cells have helped to cure.
Rebecca Skloot tells the story with great sensitivity, urgency and, in the end, damn fine writing. I highly recommend this book. --Jad Abumrad
---
Look Inside The Immortal Life of Henrietta Lacks
Click on thumbnails for larger images
| | | | | |
| --- | --- | --- | --- | --- |
| | | | | |
| Henrietta and David Lacks, circa 1945. | Elsie Lacks, Henriettaâ??s older daughter, about five years before she was committed to Crownsville State Hospital, with a diagnosis of â??idiocy.â?? | Deborah Lacks at about age four. | The home-house where Henrietta was raised, a four-room log cabin in Clover, Virginia, that once served as slave quarters. (1999) | Main Street in downtown Clover, Virginia, where Henrietta was raised, circa 1930s. |
| | | | | |
| --- | --- | --- | --- | --- |
| | | | | |
| Margaret Gey and Minnie, a lab technician, in the Gey lab at Hopkins, circa 1951. | Deborah with her children, LaTonya and Alfred, and her second husband, James Pullum, in the mid-1980s. | In 2001, Deborah developed a severe case of hives after learning upsetting new information about her mother and sister. | Deborah and her cousin Gary Lacks standing in front of drying tobacco, 2001. | The Lacks family in 2009. |
---
Excerpt
PROLOGUE
The Woman in the Photograph
There's a photo on my wall of a woman I've never met, its left corner torn and patched together with tape. She looks straight into the camera and smiles, hands on hips, dress suit neatly pressed, lips painted deep red. It's the late 1940s and she hasn't yet reached the age of thirty. Her light brown skin is smooth, her eyes still young and playful, oblivious to the tumor growing inside her—a tumor that would leave her five children motherless and change the future of medicine. Beneath the photo, a caption says her name is "Henrietta Lacks, Helen Lane or Helen Larson." ...
view entire excerpt...
Discussion Questions
1. On page xiii, Rebecca Skloot states, "This is a work of nonfiction. No names have been changed, no characters invented, no events fabricated." Consider the process Skloot went through to verify dialogue, re-create scenes, and establish facts. Imagine trying to re-create scenes such as when Henrietta discovered her tumor (page 15). What does Skloot say on pages xiii–xiv and in the notes section (page 346) about how she did this?
2. One of Henrietta's relatives said to Skloot, "If you pretty up how people spoke and change the things they said, that's dis- honest" (page xiii). Throughout, Skloot is true to the dialect in which people spoke to her: The Lackses speak in a heavy Southern accent, and Lengauer and Hsu speak as nonnative English speakers. What impact did the decision to maintain speech authenticity have on the story?
3. As much as this book is about Henrietta Lacks, it is also about Deborah learning of the mother she barely knew, while also finding out the truth about her sister, Elsie. Imagine discovering similar information about one of your family members. How would you react? What questions would you ask?
4. In a review for the New York Times, Dwight Garner writes, "Ms. Skloot is a memorable character herself. She never intrudes on the narrative, but she takes us along with her on her reporting." How would the story have been different if she had not been a part of it? What do you think would have happened to scenes like the faith healing on page 289? Are there other scenes you can think of where her presence made a difference? Why do you think she decided to include herself in the story?
5. Deborah shares her mother's medical records with Skloot but is adamant that she not copy everything. On page 284 Debo- rah says, "Everybody in the world got her cells, only thing we got of our mother is just them records and her Bible." Discuss the deeper meaning behind this statement. Think not only of her words, but also of the physical reaction she was having to delving into her mother's and sister's medical histories. If you were in Deborah's situation, how would you react to someone wanting to look into your mother's medical records?
6. This is a story with many layers. Though it's not told chronologically, it is divided into three sections. Discuss the signifi- cance of the titles given to each part: Life, Death, and Immortality. How would the story have been different if it were told chronologically?
7. As a journalist, Skloot is careful to present the encounter between the Lacks family and the world of medicine without taking sides. Since readers bring their own experiences and opinions to the text, some may feel she took the scientists' side, while others may feel she took the family's side.What are your feelings about this? Does your opinion fall on one side or the other, or somewhere in the middle, and why?
8. Henrietta signed a consent form that said, "I hereby give consent to the staff of The Johns Hopkins Hospital to perform any operative procedures and under any anaesthetic either local or general that they may deem necessary in the proper surgical care and treatment of: ________" (page 31). Based on this statement, do you believe TeLinde and Gey had the right to obtain a sample from her cervix to use in their research? What information would they have had to give her for Henrietta to have given informed consent? Do you think Henrietta would have given explicit consent to have a tissue sample used in medical research if she had been given all the information? Do you always thoroughly read consent forms before signing them?
9. In 1976, when Mike Rogers's Rolling Stone article was printed, many viewed it as a story about race (see page 197 for reference). How do you think public interpretation might have been different if the piece had been published at the time of Henrietta's death in 1951? How is this different from the way her story is being interpreted today? How do you think Henrietta's experiences with the medical system would have been different had she been a white woman? What about Elsie's fate?
10. Consider Deborah's comment on page 276: "Like I'm always telling my brothers, if you gonna go into history, you can't do it with a hate attitude. You got to remember, times was different." Is it possible to approach history from an objective point of view? If so, how and why is this important, especially in the context of Henrietta's story?
11. Deborah says, "But I always have thought it was strange, if our mother cells done so much for medicine, how come her family can't afford to see no doctors? Don't make no sense" (page 9). Should the family be financially compensated for the HeLa cells? If so, who do you believe that money should come from? Do you feel the Lackses deserve health insurance even though they can't afford it? How would you respond if you were in their situation?
12. Dr. McKusick directed Susan Hsu to contact Henrietta's children for blood samples to further HeLa research; neither McKusick nor Hsu tried to get informed consent for this research. Discuss whether or not you feel this request was ethi- cal. Further, think about John Moore and the patent that had been filed without his consent on his cells called "Mo" (page 201). How do you feel about the Supreme Court of California ruling that states when tissues are removed from your body, with or without your consent, any claim you might have had to owning them vanishes?
13. Religious faith and scientific understanding, while often at odds with each other, play important roles in the lives of the Lacks family. How does religious faith help frame the Lackses' response to and interpretation of the scientific information they receive about HeLa? How does Skloot's attitude toward religious faith and science evolve as a result of her relationship with the Lackses?
14. On page 261, Deborah and Zakariyya visit Lengauer's lab and see the cells for the first time. How is their interaction with Lengauer different from the previous interactions the family had with representatives of Johns Hopkins? Why do you think it is so different? What does the way Deborah and Zakariyya interact with their mother's cells tell you about their feelings for her?
15. Reflect upon Henrietta's life: What challenges did she and her family face? What do you think their greatest strengths were? Consider the progression of Henrietta's cancer in the last eight months between her diagnosis and death. How did she face death? What do you think that says about the type of person she was?
Suggested by Members
What rights do individuals have over the use of body tissue removed from them?
How should one be compensated if one's body tissue is used to create commercial products?
How is this book and the events of 1950's still relevant to use today?
by mrblock
(see profile)
09/20/16
Medical disassociation with patients/family of patients; in some ways necessary - but what boundaries should there be? When is it harmful?
Cures need data - when or should data be compensated to the patient/patient families? Would receiving free care be enough compensation for the patient? What if much later, the value of the data increased?
Is there a better way to explain medical procedures to non-medical people?
by LJT0001
(see profile)
01/14/14
The ones in book worked well.
by Joguarino
(see profile)
01/14/14
Don't forget to include discussion on the skill of the author in putting together the book as a story and an informative piece of journalism.
by hollidaypark
(see profile)
10/03/13
What has happened since Pres Nixon's declaration to cure cancer?
Is Michelle Obama's healthy eating campaign needed and making a difference?
How would education have made a difference in the lives of the Lacks family?
by paxsonsu
(see profile)
05/14/13
www.HenriettaLacksFoundation.org
www.RebeccaSkloot.com
by ThePageTurners
(see profile)
05/25/12
HeLa cells helped introduce the era of consent forms in medical capacities. Do you think Henrietta would have signed a form had one existed?
Henrietta was not asked permission to share her cells or her explicit medical history with the world, yet both are now freely available. Which is the lesser of the two evils?
by kekaroo
(see profile)
04/18/12
Should the hospital have received consent for Ms. Lacks cells?
Should the family be monetarily compensated for these cells?
Which advance in medical science surprised you the most? What have you learned about experimental science in the south?
by maureenmorisano
(see profile)
03/03/12
What are the implications of this tale in the present day.
Discuss the author's involvement and interest in these events.
A good story to open up a discussion of racial and economic differences in American society.
by birdsinger
(see profile)
12/03/11
Do you think this book influenced the fact that now boys are recommended to get vaccinated for HPV?
by ktautfest
(see profile)
07/09/11
BECOME A MEMBER
it's free
Join the leading website for book clubs with over 35,000 clubs and 20,000 reading guides.
SEARCH OUR READING GUIDES
Search
JOIN OUR MAILING LIST
Get free weekly updates on top club picks, book giveaways, author events and more
Please wait...