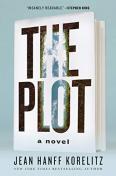 The Plot
by Hanff Jean Korelitz
Hardcover- $23.49

Click on the ORANGE Amazon Button for Book Description & Pricing Info
Overall rating:
How would you rate this book?
Member ratings
""
by ebach (see profile) 04/22/21
If you are a writer or work in the publishing industry, THE PLOT is for you. As a matter of fact, the good reviews of this book that I've seen have been written by people in the publishing industry.

As far as I can tell, though, this book is not for anyone else. It bored me. I am sure it will bore most people, maybe even some writers and those who work in the publishing industry.

Jake has written a highly successful novel that he based on a plot written by one of his students. The student is now dead, and Jake has rewritten the story. Jake did not really steal it from anyone, but he feels that he did. So does someone else who is badgering him online about it. Who is this? That's what Jake sets out to learn.

I read several good reviews of this book before I decided to read it. I feel cheated. Although most reviews warn that the book has a slow beginning, they also assure the reader that it gets suspenseful, thrilling. Believe me when I tell you that, yes, THE PLOT does have a slow beginning; BUT it continues to drag right up to page 300.

If you can delay your gratification that long, go for it. I don't know any people who can do that. No one should have to.

Even after page 300, you're bound to be disappointed. The whole mystery is solved in the end, and I could see it coming long before I got that far.
"A quick read with twists and turns."
by thewanderingjew (see profile) 01/17/22
The Plot, Jean Hanff Korelitz, author; Kirby Heyborne, narrator
When, Bonner, a down at heel writer, a one-novel success, cannot get a publisher to publish the additional novels he has authored, he resorts to teaching . At Ripley College, as a low residency professor in the Fine Arts Masters program, Jake meets a student, Evan Parker, arrogant and very self assured, who has an amazing idea for a book. Jake knows this plot will fly off the bookseller's shelves. He wonders why it wasn't own his fabulous idea! When he learns of the student's passing, he steals the idea, develops it fully, and makes it his own. It is an immediate success.
As time passes, he meets a woman, falls in love, and they quickly marry. Neither of them is young, rather they are both in their mid to late thirties. A short time after his marriage, he begins to get cryptic messages about having stolen a story. In fact, it is partly true, since he has used his former student's idea. He begins to investigate, on his own, keeping what seems like a threat, a secret. He is hoping to find the person who is sending the messages and to discover why. Who else could possibly know about Parker's idea for a novel? What could be the motive of the person sending the messages? They have not asked for money, but it seems to him that whoever it is, is threatening to expose him in some way.
As the book continues, the reader is treated to two books, as the one Bonner wrote and the one we are reading merge. In the end, there is a third narrative, as well, which will further enlarges the plot and engage the reader. Some may find the novel more intriguing, some may not.
A troubled family experiences one tragedy after another, until the family is destroyed by its suffering. Why is this one family subjected to so much pain? They lived in the biggest house, seemed to have so much, and yet, they had very little. What is taking the lives of so many of the members of the Parker family? Are there any survivors? Is someone who knew the student that Jake taught trying to expose him? Round and round the story goes. What is the truth? Writing more about the book will expose too much of this "whodunit". Suffice it to say, the ending will be completely unexpected, so absolutely do not turn to the final pages until you reach them!
Until the very end, I would have given this book 5 stars for the way it twisted and turned, keeping the reader wondering what the real story was going to be, but in the end, I thought that the least possible plausible ending, was the one revealed. As the main character, Jacob "Finch" Bonner insists, an author does research, and yet, ironically, we discover that he actually left the most important investigation out, when the final reveal is made. Also, unnecessarily, the author felt compelled to trash former President Trump. I do wish authors would leave their personal politics out of their books. Why alienate half your audience?

BECOME A MEMBER
it's free
Join the leading website for book clubs with over 35,000 clubs and 20,000 reading guides.
SEARCH OUR READING GUIDES
Search
JOIN OUR MAILING LIST
Get free weekly updates on top club picks, book giveaways, author events and more
Please wait...